Texas DPS Mustang Equipment
(Always looking for photos of Texas DPS Mustangs. Feel free to 'Contact' us with the blue button at the bottom right.) 
Most Texas DPS Mustangs were slicktop cars. This meant that they were marked, but didn't have lightbars on the roof. Here is a break down of the lighting used on these cars:
Dash Lights:
Texas used (2) styles of dash lights:
Red Whelen Responder (1983-1984):
Here is a red Whelen Responder halogen light with optional mirror. The mirror not only helps keep the light from shining in to the face of the occupants, but reflects the light back to the front to add more flashers per minute.
(Without the mirror)
Red SVP Fireball Teardrop (1985-1986):
This is a teardrop style halogen light used from 1985-1986.
Rear Deck Lights:
For emergency lighting to the rear, Texas DPS used (2) style of halogen lights:
Red/Blue Round Halogens:
From 1983-1984, Texas DPS used red & blue round PAR-36 style halogen lights with chrome housings. 
Red/Blue Rectangular Halogens:
From 1985-1989, Texas DPS used red & blue rectangular chrome Sho-Me style halogen deck lights.
Grill Lights:
Texas DPS used (3) different styles of grill lights on all their slick top cars.
Round Halogen PAR-36 Red & Blue Lights:
For 1983-1984, DPS ran round, halogen flashers (PAR 36-type, alternating red and blue) up front
Sho-Me Style
From 1985-1986, Texas DPS used red & blue Sho-Me style grill lights.
Whelen Micro-Grill Masters (1987-1989)
In 1987, Texas DPS started using Whelen Micro-Grill Master strobe lights on the grill. They were hooked up to a separate 2-position power supply.
The front brackets are 1-1/2″ wide flat metal stock. The front piece is 21-1/2″ long.
Lightbars:
Code 3 LP6000:
Texas DPS started using lightbars on some 1987-1988 cars with usage become more common in 1989. The cars using lightbars were equipped with a 47-inch Code 3 LP6000/Force 4LP. The lightbars used clear lenses with red and blue filters over the rotators. They had a clear takedown between the roatators in the front, and alternating flashers between the rotators in the rear with amber filters. There have been light bars seen without the amber filters in the back that used blue and red instead.
Federal Signal Jetsonic:
Texas DPS did not purchase any Mustangs in 1991 or 1992. In 1993, the newly purchased Mustangs were all outfitted with Federal Signal Jetsonic lightbars. These lightbars had red filters on the drivers side, blue filters on the passenger side, clear filters next to the speaker for take down lights, and amber filters in the front and rear in an arrangement like shown in the diagram below:
These lightbars had Code 3 Arrowstik directional arrowbars mounted to the back of them for traffic control.
Controllers:
The Mustangs prior to 1988 had holes drilled in the console with switches for the lights. They later cars that used lightbars used a variety of switch boxes to control the lights including ones like this one from Code 3.
Wig-Wag Headlights:
Wig-wag headlight flashers were used at random prior to 1989, but became more common in the later cars.
Siren & Radio:
The 1983-1986 Mustangs used a Federal PA200 siren.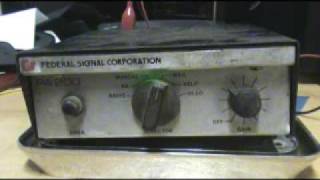 and the radio is a GE Mastr II
The 1987-1993 Mustangs used Motorola Syntor radios with integrated siren.
Radar:
The early Mustangs used a MPH S80 radar unit. The later Mustangs used the Dacatur model radar's.
MPH S80 RADAR
Decatur RADAR