Minnesota State Patrol SSP Mustangs – Emergency Lighting
The Minnesota State Patrol bought 20 of the SSP Mustangs in 1989. Minnesota law required that Minnesota State Patrol cars be maroon, but specially marked patrol cars could be any color and were required to have the Patrols emblem on the right (passenger) door only.
Lightbars:
These vehicles were not equipped with lightbars.
Grill Lights:
These vehicles used Sho-Me No-Show undercover lights on the front bumper
| | |
| --- | --- |
| | |
| Shoe-Me No-Sho Lights turned off | Display red when turned on |
Dash/ Lights:
Five-O Dash Light:
These vehicles were equipped with a Five-O Emergency Products Emergency Beacon (dash light) (based out of St. Joseph, Minnesota).
These lights were installed along the metal trim above the rear view mirror by the headliner.
(If you look closely, you can see the curvature of the light above the rearview mirror, and the side reflective mirrors sticking out from it)
(Here's the clearest photo that I could find in a Minnesota State Patrol Car (Ford Crown Victoria))
Rear Deck Lights:
The original rear deck light was a triple red halogen light (less than 10″ wide) made by Approved Technologies out of Hudsonville, MI (that was bought out by Sound Off). After the Approved Technologies light was no longer available they used a Code 3 black aluminum cased dual halogen light with a remote alternate flasher (not self-contained) since the State of MN already had a contract with Code 3 for equipment for their full size vehicles. ~ Bob Rose in MN
Headlight & Brake/Back-Up Light Flashers:
The headlights were equipped with traffic mover flashers. The brake and backup lights were equipped with a flashback flasher.
Spotlights:
These vehicles were not equipped with spotlights.
Videos: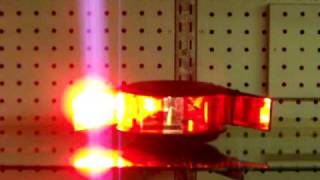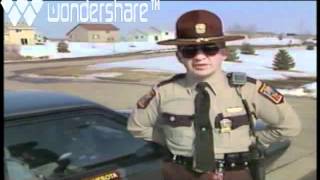 For more Minnesota State Patrol cars, check out MaroonCruisers.com!
Have photos or information to share? Use the blue contact button at the bottom right.