Florida Highway Patrol SSP Ford Mustang
(Always looking for good photo examples of FHP Mustangs. Feel free to contact the Admin HERE.)
Beacons:
For the first year (1983), the Florida Highway Patrol used the Federal Signal CJ184
Lightbars:
The Florida Highway Patrol used (2) styles of light bars on their Ford Mustangs:
Federal Signal Jetsonic:
The most common is the 48-inch Federal Signal Jetsonic. The Jetsonic light bar had all blue filters and the clear takedowns were on the outside edges of the light bar. This is a unique design as most agencies installed their clear takedowns on the inside edges, next to the speaker housing. These light bars also had clear alley lights on the sides.
The Jetsonics were the older chain driven style, but some were converted to independent rotators in the early 90's. The rotators on these bars also served as flashers. The bars were equipped with a control that would make the rotators go to a predetermined position and stop when activated. This switched them from rotating lights to flashing lights. The bars had a front-light cutout feature that allowed Troopers to only have lights flashing to the rear. These types of rotators are referred to as 'Smart Rotators'.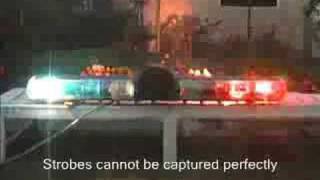 (Although the colors are incorrect, this video gives you a better understanding of how the 'smart rotators' worked)
The Jetsonic was controlled by a Federal Signal JSS switch panel (no longer available) like the one below.
Note the $49.75 price listed from the catalog page. These switches are difficult to locate. In April 2011, the JSS shown below sold on eBay for $177.50.
These JSS switch controls are highly sought after items.
Federal Signal Vector:
The Vector light bar was used on some Mustangs starting around 1989 and featured a directional traffic advisor on the rear.
Deck Lighting:
The Florida Highway Patrol used (2) styles of deck lighting in the rear windows of the Mustangs
Whelen Dashmaster:
Florida Highway Patrol used (2) blue Whelen Dashmaster strobes in the rear window. Each were attached to a simple flat piece of metal stock which was then attached to the rear deck.
Federal Signal Strobes:
In addition to the Whelen Dashmasters, Florida Highway Patrol also used a blue strobe from Federal Signal that was similar to the Dashmaster.
Federal Signal (Tomar Style) Strobes:
There were a limited amount of Federal Signal Tomar style strobes used in 1992-1993.
Dash Lighting
Some Florida Highway Patrol Mustangs (both marked and unmarked) have been seen with blue pancake style dash lights.
Headlight Flashers (Wig-Wags):
The Florida Highway Patrol Mustangs did not typically have alternating headlights, although some may have been added if Troopers wanted them.
Spotlights:
These vehicles were equipped with a single chrome spotlight on the drivers side.